This species has been observed on Reunion, Mauritius, Mayotte and Madagascar Islands

Order : Anaspidea
Superfamily : Aplysioidea
Family : Aplysiidae
Distribution : Found circum-globally in warm tropical and sub-tropical waters
Maximal size : 40 mm
Abundance : Frequently on the rocky coast and on the reef flat zone




Species characteristics :

The posterior half of the animal is usually broad and rounded gradually narrowing anteriorly to the head
The upper surface has numerous, low tubercles which bear retractile single or compound papillae, except for the zone immediately above the foot which is smooth. The tubercles are always paler than the mantle.
The background colour on the body is usually a mottled green or light brown but ranges in colour from chocolate, to dark brown, to orange -brown, to olive-green, to pink...

Showing species characteristics...

Photo Philibert Bidgrain
Reunion, Etang salé on the rocky coast, less 1 m, 25 June 2006, size 30 mm
See more about : Sightening and mating periods
See more about : Dolabrifera dolabrifera a variability in Southwest Indian ocean
Remarks :
Identification confirmed by Nathalie Yonow
Synonymous : (according Worms)
- Very numerous synonymous, see worms
Bibliographic data :
These animals are very commonly found on the under-surface of strewn coral and rock rubble, along with their eggs which are found as transparent zigzag shaped ribbons. Frequently several animals are found together within intertidal regions of the reef flat and protected lagoons.
Rhinophores and oral tentacles are moderately long, cylindrical with a widened end. The eyes are well visible, in front of the base of the rhinophores.
The parapodia are fused except for a short region in the posterior midline, where two small flaps form and an inhalent and exhalent opening into the parapodial chamber which encloses the reduced mantle cavity and shell.
There is a whitish line along the right side of the body. This is the sperm groove which runs from the genital opening in the small mantle cavity at the back of the body, to the opening to the penis sac which is at the base of the right oral tentacle
The foot is speckled with brown
D. dolabrifera is a very flattened Sea Hare with a very broad foot which enables it to stick firmly to the rocky substrate on which it lives.
It crawls with a very characteristic leech-like movement. When crawling, the posterior end of the foot forms a posterior disc which is firmly attached to the rock. At the same time the head is slightly raised off the rock and extends forward, the front part of the body stretching out to form a thin neck. When it stretches forward as far as it can, the head drops to the rock surface and attaches to it. Gradually the neck also attaches and gradually pulls the body forward and the the process is repeated again.
The thin, pale brown spawn is laid in a neat zig-zag manner on the sides and undersurface of dead corals or rocks. It is unique amongst the sea hares in having its egg mass attached long one edge, rather than in a tangled mass (see Stylocheilus striatus).
D. dolabrifera feeds on turfing green algae
Sea Hares have two main secretory glands in their mantle cavity, one we call the Purple Gland lies on the roof of the cavity, above the gill. It usually produces a purple secretion but can also produce a white ink in some species. This is not to be mistaken for the white milky secretions of the Opaline Gland which lies beneath the gill on the floor of the mantle cavity (see Anaspidea).
Material examined by Nathalie Yonow ( see reference/publications).
Eight specimens collected from Tamarin (Mauritius), 5, 11 and 13 October 1985, size : 20 à 60 mm. And two from Flic en Flac (Mauritius), 15 October 1985, size : 40 et 50mm
References :
Bill Rudman Seaslug site : Sea Slug Forum : Dolabrifera dolabrifera
Nudipixel Dolabrifera dolabrifera
Publications :
Bebbington, A. (1974) Aplysiid species from East Africa with notes on the Indian Ocean Aplysiomorpha (Gastropoda: Opisthobranchia). Zoological Journal of the Linnean Society, 54 : 63-99.
Bebbington, A (1977) Aplysiid species from Eastern Australia with notes on the Pacific Ocean Aplysiomorpha (Gastropoda: Opisthobranchia). Transactions of the Zoological Society of London , 34 : 87-147.
Cuvier, G.L. (1817) La Règne Animal. Vol. 2. (Gasteropodes), Vol. 4.
Johnson, P.M & Willows, A.O.D, (1999) Defense in Sea Hares (Gastropoda, Opisthobranchia, Anaspidea): multiple layers of protection from egg to adult. Marine & Freshwater Behaviour & Physiology, 32 : 147-180
Martínez E. & Ortea J. (1990). Moluscos opistobranquios de Cabo Verde: Anaspidea (Aplysiomorpha). Publicações Ocasionais da Sociedade Portuguesa de Malacologia. 15: 17-42.
Yonow, N. and Hayward , P. J. (1991). Opistobranches de l'île Maurice, avec la description de deux espèces nouvelles (Mollusca : Opistobranchia) Revue française d'aquariologie herpétologie, 18 (1), 1-30
Other photos of Dolabrifera dolabrifera :
---
Nathalie Yonow, Peter Joseph Hayward and Maurice Jay Mauritius, Internal sheell and radula structure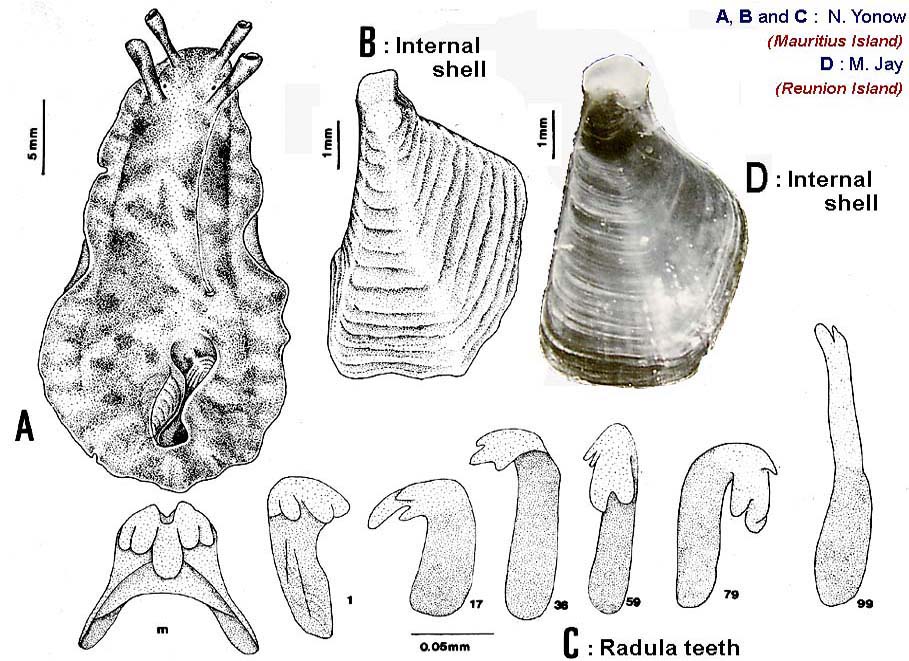 ---
Philibert Bidgrain

Reunion, "Kélonia center" a Marine Turtle Center in Saint Leu
15 December 2006, size : 25-30 mm

You can see on this photo, the white milky secretions of the Opaline Gland (see Anaspidea)
---
Philibert Bidgrain

Reunion, Etang salé on a rocky coast, less 1 m, 9 April 2006, size : 20-30 mm.

The thin, pale brown spawn is laid in a neat zig-zag manner on the sides and undersurface of dead corals or rocks.

Rhinophores and oral tentacles are moderately long, cylindrical with a widened end. The eyes are well visible, in front of the base of the rhinophores.

A orange color form
---
Philibert Bidgrain


Reunion, Etang salé on a rocky coast, less 1 m, 21 November 2006, size : 20-30 mm.

A yellow color form
---
Sonia Ribes Beaudemoulin

Reunion, Trois Bassins lagoon, less 1 m, May 2007.

There is a whitish line along the right side of the body. This is the sperm groove which runs from the genital opening in the small mantle cavity at the back of the body, to the opening to the penis sac which is at the base of the right oral tentacle

A pink color form
---
Philibert Bidgrain

Reunion, Etang salé on a rocky coast, less 1 m, 18 July 2006, size : 30-35 mm.

The background colour on the body is a mottled green and light brown

A tuberculated form
---
Philibert Bidgrain

Reunion, Etang salé on a rocky coast, less 1 m, 30 October 2006, size : 30-35 mm.

Two specimens of a white specked form
---
Philibert Bidgrain

Reunion, Etang salé on a rocky coast, less 1 m, 30 October 2006, size : 30-35 mm.

There is a whitish line along the right side of the body. This is the sperm groove which runs from the genital opening in the small mantle cavity at the back of the body, to the opening to the penis sac which is at the base of the right oral tentacle

A dark brown color form
---
Philibert Bidgrain

Reunion, Etang salé on a rocky coast, less 1 m, 29 November 2006

A dark brown spot color form
---
Alexandre Laporte

Madagascar, Sainte Marie, Antafondro Lodge on the rocky coast, less 1 m, 30 August 2017, size : 50 mm
---
More photos from Indian Ocean
---