This species has been observed on Reunion, Mauritius, Mayotte, Madagascar and Seychelles Islands

Order : Cephalaspidea
Superfamily : Philinoidea
Family : Aglajidae
Distribution : Tropical Indo-West Pacific, Caribbean.
Maximal size : 40 mm
Abundance : From time to time on the rocky coast

Species characteristics :

It can be distinguished by brown to black coloration with a "T shape marking" on its head

This is a black to brown species variably decorated with blue/green and sometimes orange lines

There is usually a white marking in the shape of a crescent on the posterior shield

Showing species characteristics...

Photo Philibert Bidgrain
Reunion, "Kelonia center", at Saint Leu, 15 April 2009, size : 20 mm
See more about : Sightening and mating periods
See more about : Chelidonura hirundinina variability in Southwest Indian ocean
Remarks :
Identification confirmed by Nathalie Yonow et Hsini Lin
Synonymous : (according Worms)
- Bulla hirundinina Quoy & Gaimard, 1833 - Chelidonura philinopsis Eliot, 1903
Bibliographic data :
The most consistent characteristic is the ring of blue/green surrounding an orange bar on the top of the head with a central extension onto the notum forming the "T shape marking". The width of the lines is variable. Portions of the blue/green lines may be replaced by white in some animals
The flap araising from the sides of the foot (parapodia) are large but they do not meet in the midline
The "tails" are also highly variable ranging from short and symmetrical to long and asymmetrical. In asymmetrical animals, either the right or left hand "tail" may be longer in contrast to most Chelidonura spp (perhaps reflecting loss to predators and regeneration?). Usually in Chelidonura, the left one is slightly longer than the right one. Some "tails" may also have rounded rather than acute tips.
Species of Chelidonura are also characterised by the mounds of sensory bristles on either side of the mouth. Sensory bristles are present in all aglajids, but they are most prominent in Chelidonura . They are used to detect prey.
Round white globular egg masses are deposited on rock surface. According to Rose (1985), ova (82 Ám in diameter) occur singly in capsules within the spawn mass
Chelidornura hirundinina, is a sand-dwelling species feeding on small flatworms. Common on rocky or sandy substrates in shallow water It feeds on small acoel flatworms like Convoluta and swallows them whole with its muscular pharynx
References :
Bill Rudman Seaslug site : Sea Slug Forum : Chelidonura hirundinina
Publications :
Gosliner T.M. (1988) The Philinacea (Mollusca: Gastropoda: Opisthobranchia) of Aldabra Atoll, with descriptions of five new species and a new genus. Bulletin of the Biological Society of Washington 8: 79-100. [13 September 1988]
Redfern. C., 2001Bahamian Seashells: a Thousand Species from Abaco, Bahamas .
Rose, R.A. 1985. The spawn and development of twenty-nine New South Wales opistobranchs (Mollusca: Gastropa). Proceedings of the Linnean Society of New South Wales 108(1): 23-36
Rudman,W.B., 1974. A comparison of Chelidonura, Navanax and Aglaja with other genera of the Aglajidae. Zoological Journal of the Linnean Society, 54 : 185-212.
Rudman,W.B. 1973. On some species of Chelidonura (Opisthobranchia: Aglajidae) from Zanzibar and Fiji. Zoological Journal of the Linnean Society, 52 : 201-215.
Thompson, T.E. (1977) Jamaican opisthobranch molluscs I. Journal of Molluscan Studies, 43(2) : 93-139, pls.1-3.
Zamora-Silva A. & Malaquias M.A.E. (2017). Molecular phylogeny of the Aglajidae head-shield sea slugs (Heterobranchia: Cephalaspidea): new evolutionary lineages revealed and proposal of a new classification. Zoological Journal of the Linnean Society
Other photos of Chelidonura hirundinina :
---
Maurice Jay

Cap la Houssaye, on the rocky coast, November to December, size : animal 25 mm, shell 7mm

Shell trapezoidal with a curved apex. Very delicate, never found dead
| | |
| --- | --- |
| Shell : Internal view | Shell : External view |
| | |
---
Philibert Bidgrain

Reunion, "Kelonia center", at Saint Leu, 15 April 2009, size : 10-12 mm

A large population was observed in April, the average size is about 15 mm

This is a black to brown species variably decorated with blue lines. This is the most frequent pattern observed in this population

(a) There white marking in the shape of a crescent on the posterior shield

(b) Species of Chelidonura are also characterised by the mounds of sensory bristles on either side of the mouth.
---
Philibert Bidgrain

Reunion, "Kelonia center", at Saint Leu, 1 April 2009, size : 13-15 mm

This is a black to brown species variably decorated with green lines
---
Philibert Bidgrain

Reunion, "Kelonia center", at Saint Leu, 8 April 2009, size : 16-18 mm without the tail

This is a black to brown species variably decorated with blue and orange lines

---
Seb Vasquez
Reunion, Piscine du Cap la Houssaye, 13 November 2014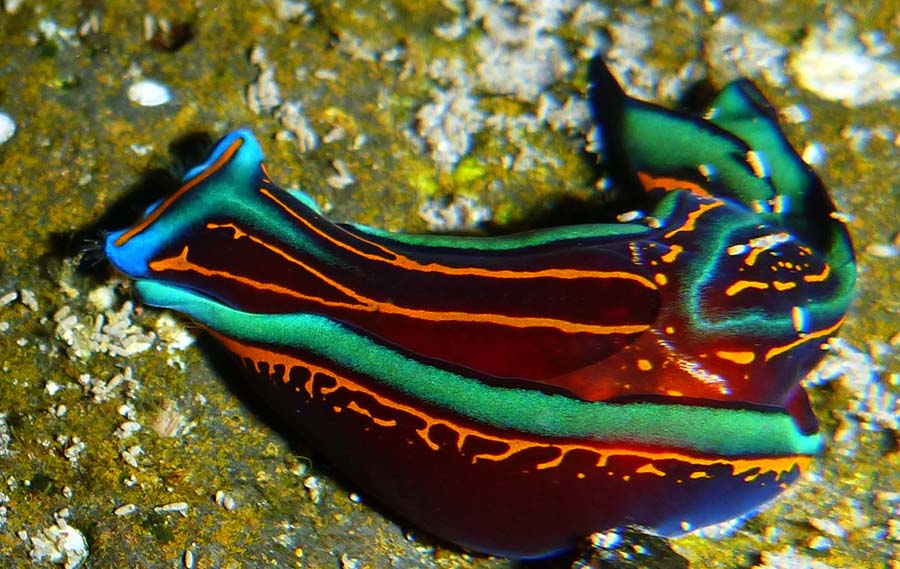 ---
Seb Vasquez

Reunion, Piscine du Cap la Houssaye, 13 November 2014

Mating behavior
---
Seb Vasquez

Reunion, "piscine du cap la Houssaye", less 1 m, 21 February 2015

During the night

There is usually a white marking in the shape of a crescent on the posterior shield
---
Alain-Benoît Rassat

Madagascar, Kalakadjoro, 15 m, 2 November 2016, size : 15 mm
---
More photos from Indian Ocean
---