This species has been observed on Mayotte Island

Order : Nudibranchia
Suborder : Dexiarchia
Superfamily : Fionoidea
Family : Eubranchidae
Distribution : Indo West Pacific
Maximal size : 20 mm
Abundance :




Species characteristics :

It is characterized by its translucent body and cerata with scattered brown spots and opaque white dots all over the body, rhinophores and oral tentacles, often aggregated into bands and patches

The cerata can change shape considerably, and at their largest are greatly inflated, the basal two-thirds being cylindrical and the upper third tapering to a point.

A ring of 7 - 8 tubercles form a ring around the ceras at about a third the way from the tip

Showing species characteristics...

Photo Quentin Lognoné

Mayotte

, N'Gouja lagoon, less 1 m, 19 October 2017, size : 15 mm
Remarks :
Identification confirmed by Nathalie Yonow
Our only specimen is very pale in coloration, but it have the caracteristic pattern of this species....
Synonymous : (according Worms)
- Dunga ocellata (Alder & Hancock, 1864)
- Eolis ocellata Alder & Hancock, 1864

Bibliographic data :
The digestive gland duct in each ceras is a thin tube, usually brown in colour.
Recall that Eubranchus differs from Cuthona only by having a radula with three teeth per row, the latter having a single rachidian tooth
Feeds on hydroids
References :
Slugsite: Eubranchus ocellatus
Medslug Eubranchus ocellatus
Publications :
Alder, J.; Hancock, A. (1864). Notice of a collection of nudibranchiate Mollusca made in India by Walter Elliot Esq. with descriptions of several new genera and species. Transactions of the Zoological Society of London. 5: 113-147.
Other photos of Eubranchus ocellatus :
---
Quentin Lognoné
Mayotte, N'Gouja lagoon, less 1 m, March 2018, size : 15 mm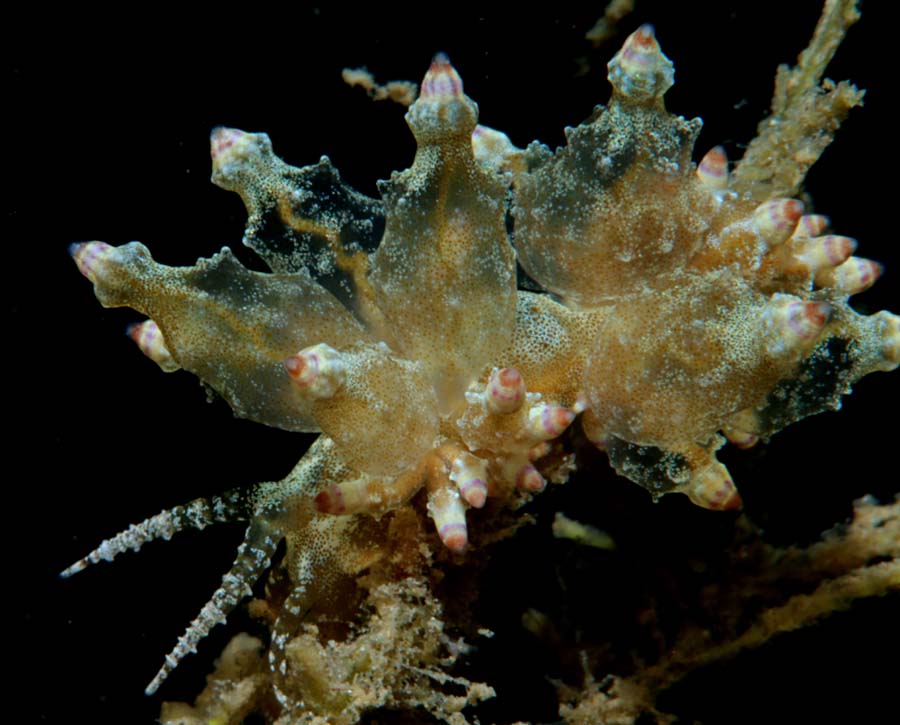 ---
More photos from Indian Ocean
If you have taken a photo of this species in Reunion Island, please Contact us...
---